.
I take my hat off to Iain Duncan Smith. Only he could turn a disability crisis into a fiasco
The DWP's latest disaster – a report leaked to the Guardian about £1bn of welfare cuts – is typical of the incompetence ruining millions of lives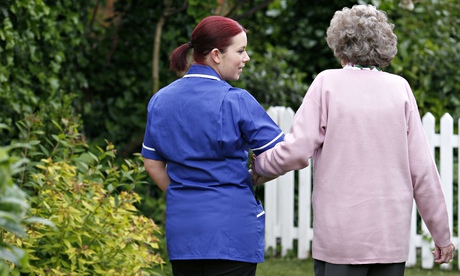 We no longer discuss whether Iain Duncan Smith's reforms will succeed or fail. We no longer need thinktanks and charities to produce reports on what might happen if you attempt to reform every strand of the social security system at once, without taking any advice at all from people who actually live with illnesses or disabilities, and at a time when money is short and compassion shorter.
The chaos at the Department for Work and Pensions is now so widespread, so universal, that we can only report daily on each new disaster.
Social care budgets, respite care, day centres and carers' support have been slashed by up to 40% up and down the country, leaving people with conditions such as Alzheimer's, Parkinson's, cancer and kidney failure increasingly isolated. Perhaps most shockingly, sick and disabled people are being forced into unlimited, unpaid workfare that takes no account of their conditions.
So, at a time when sick and disabled people face uncertainty in every aspect of the support and services they rely on to lead active, inclusive lives, we might think it vital for the DWP to be at the very top of its game. Firing on all cylinders. Cooking on gas.
But perhaps this government really is so incompetent as to believe that, at the same time as it attempts to dismantle the welfare state and rebuild in its own image, it can attempt to make unprecedented cuts to departmental running costs. Perhaps this has contributed to the repeated failures and forced U-turns.
With £1bn still left to find, it warns "further savings can be achieved only by radical measures, such as outsourcing core services to the private sector, investing heavily in new IT systems, and moving to digital-only customer services".
And at a time when the need for experienced DWP employees and jobcentre staff could not be greater, "almost 30,000 posts (24% of the workforce) have been cut, with thousands more expected through voluntary redundancy schemes in the next few months".
Every time I despair that the fiasco could not be made any worse, it seems that the DWP always has yet more incomprehensible decisions to astound me with. Like a very slow car crash, choking off whole motorways with wave upon wave of twisted, jagged metal, this DWP chaos just keeps piling up.
Presumably we'll be sacking three of the England squad just as the World Cup kicks off? Closing all our schools just before GCSE week? Or is this level of incompetence only reserved for people living with long-term illnesses and disabilities?
However, it's often easy to forget that these ignorant schemes, crumbling around us, are there to decide how people live. These are not the inevitable mistakes and teething problems of any new system. Every failure, every cut, every tribunal and appeal has ruined a life. Not a few lives, but millions.
They may be unseen, and often unheard or misunderstood. But they are people just the same, and they deserve so much better than this.